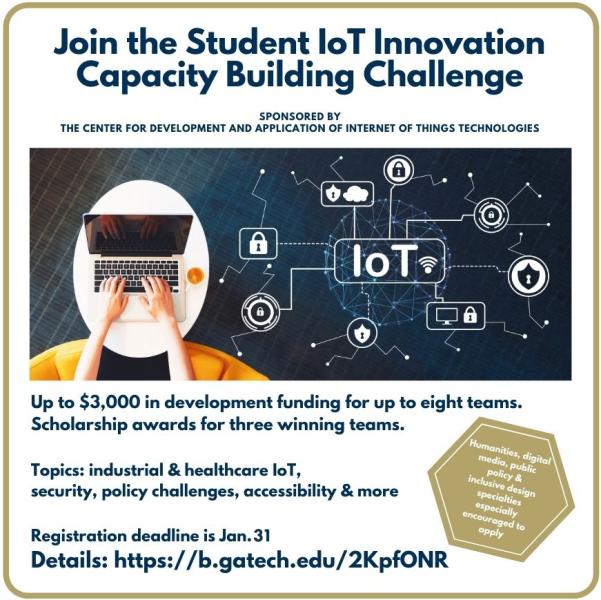 Join the Student IoT Innovation Capacity Building Challenge
Sponsored by The Center for Development and Application of Internet of Things Technologies
Up to $3000 in development funding for up to eight teams.
Scholarship awards for three winning teams.
Topics: industrial & healthcare IoT, security, policy challenges, accessibility & more.
Registration deadline is January 31, 2021
Details: https://b.gatech.edu/2KpfONR
Update: 2021 Challenge Results Announced
The Center for the Development and Application of Internet of Things Technologies (CDAIT) is pleased to announce a call for proposals for the inaugural Student IoT Innovation Capacity Building Challenge. An important source of innovative ideas, particularly in technology-related fields, comes from university settings: students, faculty, and researchers. In the effort to advance these activities in the area of Internet of Things (IoT) technologies and applications, CDAIT seeks to stimulate rapid response innovative/exploratory research or projects in the field of IoT and associated domains.
We especially seek proposals from the social sciences, humanities, and multidisciplinary teams and proposals that address the effects of IoT on underserved populations or people with disabilities. Projects that have a broader social impact are also welcome. We expect to provide up to $3,000 in research support (materials and supplies) to as many as eight (8) Challenge teams. The top three completed projects also will receive scholarship awards to be divided among team members as payments through the financial aid office.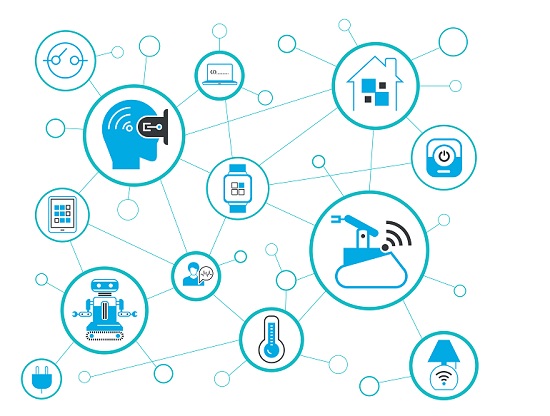 CDAIT is interested in proposals addressing (but not limited to) the following topics:
IoT Design and Development in a Covid-19 environment
Industry and IoT - Industry 4.0, Industrial Internet of Things (IIoT)
IoT implementation: logistics and application
Healthcare/Healthtech and IoT
IoT related Policy Challenges
IoT interfaces: Accessibility, Usability, and Inclusivity
Content, Digital Media, and the IoT Platforms
AI, IoT, and Ethical Design
IoT and underserved populations: Aging, People with Disabilities, and minority populations
Security of IoT platforms and devices: technology, policy, processes
Designing an inclusive and equitable Internet of Things
IoT and Data: collecting and managing real-world data
Technology development and deployment in varied IoT use cases
Rules and Eligibility
Applicant teams may be composed of up to 3 Georgia Tech students in good standing (GPA > 2.0). Projects should designate a Georgia Tech instructional or research faculty mentor for the proposed research project. The proposed projects, papers, apps, or devices need to be completed by June 1. Teams will present their work at a CDAIT event in early summer.
How to Apply
Project teams submit a proposal, on or before January 31st 2021 through the online application form [ https://gatech.infoready4.com/CompetitionSpace/#competitionDetail/1830244 ]. The two major components of the competition application are the research project proposal and the letter of support from the team's faculty mentor. Items to be included in the project proposal are:
An overview of proposed project (abstract)
Objectives and goals for the project
Supporting literature and background information
Methods and techniques to be used, software to be used or developed, and types of media or resources to be used
A list of team members and proposed roles, and contact for the team leader, including the faculty sponsor/mentor
A proposed budget for the research project for materials and supplies. This could include parts, software, fees for access to needed research/databases, etc.
Proposals should not exceed two pages in length (excluding references).
Letter of Support. Once team submits the online application form, an email is automatically sent to the listed faculty member requesting a support letter. Letters should be received by the application deadline, as applications are considered incomplete until a letter is received. It is for this reason that we advise against waiting until the last day to submit an application.
For more information and to apply go to the online application form [ https://gatech.infoready4.com/CompetitionSpace/#competitionDetail/1830244 ]
All questions should be directed to Dr. Paul M.A. Baker (paul.baker@gatech.edu).